Education / Outreach
Shakespeare festivals have much to offer the community in addition to the pleasures of outdoor summer theater. We are pleased to partner with local organizations, schools and libraries to share our love of Shakespeare's words and works, creating educational and inspirational opportunities within our community for a variety of audiences and ages.
---
WSF Goes to the Library!

Join us we celebrate our 12th year in partnership with the Fresno County Public Libraries!
All performances will be held at the Woodward Park Public Library at 6:30.
Yummies will be provided.
October 28
Something Wicked — Join WSF for an old-fashioned evening of spookiness!
December 23
Solstice — The Gift of the Magi – A Christmas Carol – How the Grinch Stole  Christmas – Twas the Night before Christmas
February 24
Open-mic Night — A Thespian Free-for-all! A Shakespearean Battle Royale! Come and Listen! Come and Play!
April 27
Preview 2016 — A very special, one night only preview of our season 12 shows: Hamlet and Tom Stoppard's Rosencrantz and Guildenstern are Dead.
THE YES! PROJECT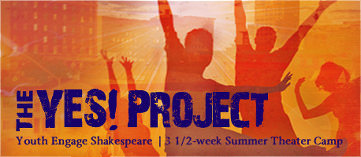 (Youth Engage Shakespeare) WSF's one and only summer youth theatre workshop. Each summer, for 3 1/2 weeks, teens work on a production that includes scenes from one of the Festival plays and their own original devised work. The workshop culminates with a performance for friends, families, and the WSF audience on the Festival Stage.
For more information, visit the YES! Project.
DAY WITH WSF
What can WSF do for you? A Day with WSF is a workshop you request from us, geared to your organizational or instructional needs. Workshops might focus on Shakespearean verse and language, acting style, a particular play or genre, Renaissance dance, and stage combat. Contracts are negotiated group by group.
To see how WSF can meet your needs, contact Executive Producer, Greg Taber at 927-3485 or via email HERE