Education / Outreach
Shakespeare festivals have much to offer the community in addition to the pleasures of outdoor summer theater. We are pleased to partner with local organizations, schools and libraries to share our love of Shakespeare's words and works, creating educational and inspirational opportunities within our community for a variety of audiences and ages.
---
THE BARD INSIDE
Is our Shakespeare Library Series, a partnership with the Fresno County Public Library. Events are fSeptember to May, at libraries in the Fresno Public Library system. Please join us as we dig into topics that explore the works, challenges, and cultural impact of Shakespeare.
For a list of dates and events, visit the BARD INSIDE.
THE YES! PROJECT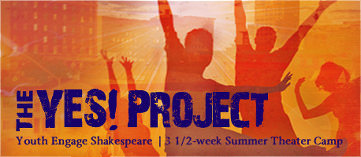 (Youth Engage Shakespeare) Is our summer youth theatre workshop. Each summer, for 3 1/2 weeks, teens work on a production that includes scenes from one of the Festival plays and their own original devised work. The workshop culminates with a performance for friends, families, and the WSF audience on the Festival Stage.
For more information, visit the YES! Project.
DAY WITH WSF
Is a workshop you request from us, geared to your organizational or instructional needs. Workshops might focus on Shakespearean verse and language, acting style, a particular play or genre, Renaissance dance, and stage combat. Contracts are negotiated group by group.